Yay! More Shalvis! I was so sad that Lucky Harbor was over and just thrilled to find this one on NetGalley. I didn't realize that this was part of an already established series, and other than a few brief scenes it didn't end up mattering.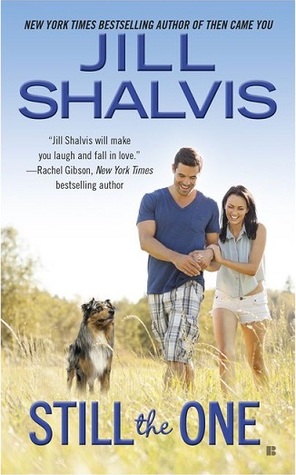 So what is it about?
Darcy Stone is game for anything except sexy Navy vet and physical therapist AJ Colten, the guy who'd rejected her when she'd needed him most. Now the shoe is on the other foot and he needs her to play nice and help him secure grants for his patients. Unfortunately Darcy can't refuse. She needs the money to fund her passion project: rescuing S&R dogs and placing them with emotionally wounded soldiers.
AJ admits it-Darcy is irresistible. But he's already been battle-scarred by a strong-willed, vivacious, adventurous woman like Darcy, and he's not making the same mistake twice until he and Darcy are forced to fake a relationship. Growing closer than they'd ever imagined possible, Darcy and AJ have to ask themselves: how much between them is pretend? What's the real thing? And where does it go from here?
First let me go ahead and say I read this a month or so ago, so the details are a little blurry. It's been a crazy month. This is book 6 in the Animal Magnetism series, and if I'm being completely honest, it could be in Lucky Harbor. The setting is familiar and comfortable, only the people are different. I found myself looking up the first five books in the series as I went along, because of course I did. This one centers around a vet clinic, and animals, as you might have guessed. I was a bit leery of this, I am not a fan of animals being main characters in books, but it was a non-issue.
Darcy and AJ are clearly meant for each other. They have both secretly been yearning for each other for years, and both feel that there's just no way it's going to happen. When they are mistaken for a couple at a crucial moment and play along to secure some funding, they are both forced to at least admit the attraction. They both realize they are falling hard, but still cling to the idea that the other couldn't possibly. There was a lot to love in their interactions and with their history together the "insta-love" was really easy to believe.
The rest of the cast were interesting, and I'd love to see a story for the brothers that Darcy brings into the story. Am I going to run out for the backlist? Probably not, but only because I have so many other books waiting in the wings (Except maybe for the brother, who I loved.) Am I going to follow along from here? Of course I am.