I recently got a bigger phone (an iPhone 6) and discovered that it does not fit in my running belt. I really hate arm bands, and doubt it'd fit in mine anyway, so I'm on the lookout for a new belt. I heard of
this one
on a runner podcast and think it would be perfect.
I don't know about your house, but earbuds seems to be a disposable commodity at mine. My kids can't resist pulling the little rubber parts off and tying the cords in knots. I try hard to keep mine out of reach, but am not always successful. I wouldn't mind taking
this pair
for a test run. And the price is right as well.
I would really love to be able to listen to podcasts easily in my car. We do have an fm transmitter, but I find it a real pain to turn that on, find the right station, start my podcast, etc. I'd really love an aux in option in both cars. Happily, you can buy
a basic stereo with no CD player
for under $30 for just this thing. I can't remember the last CD I listened to, but I listen to podcasts daily.
My birthday is coming up soon, and I can't help but wish for a really special gift (it's a special birthday!) I'm constantly reading reviews of various GPS running watches and I have to think that the
Garmin Forerunner 220
is the best of all worlds- price and function. I'd want the purple one. Duh.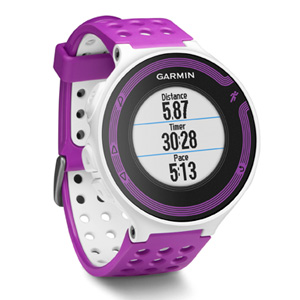 If, for some reason, that's a bit spendy, I think I could probably be happy with a
Magellan Echo
. This one isn't actually a GPS watch, rather it mirrors (echos!) your running app. So the watch just tells you what the phone is doing. This seems silly, almost, but the number one feature I want is to know my current pace without fumbling with my phone. This would do that. I also allows you to control the music, somehow. It comes in more color choices. I think pink, but the orange and gray are also tempting.
What have you found this week that you'd really like to have?